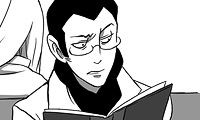 Ferris 'Fishbones' Levinstein
Born: June 2, 1984 in Southport, NY | First Appearance: Page 01
Ferris tries his best — he really does, yet he repeatedly finds himself in terrible situations. He would be perfectly content to study all day (and then perhaps read a comic or two), but instead spends most of his time trying to keep his friends out of trouble, finding dead bodies, and getting the tar beaten out of him. He never asked to be a part of all of this criminal nonsense, but it seems that his best friend and this awful lifestyle go hand-in-hand. Some might say that with Ferris' sardonic, know-it-all attitude and annoying weary sighs, he deserves it, but he would be quick to disagree.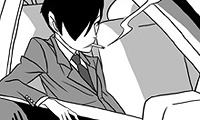 Demos 'The Ghost' Giorgetti
Born: Oct 14, 1984 in Verona, Italy | First Appearance: Page 05
Demos is Ferris' vain, troublesome best friend. He enjoys cooking, fashion, and being spoiled rotten by his grandfather. He compensates for his often irritating behavior with moments of genuine compassion and sincerity. Demos is lazy when it comes to school, but very competitive when it comes to his family's line of work. Being only half Italian, he must work twice as hard to earn the respect of his superiors. He makes up for his physical weaknesses with sharp marksmanship and quick thinking. Demos carries an especially sensitive pride and is quick to retaliate to the slightest insult with violence.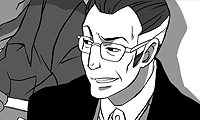 Victor 'Ashes' Giorgetti
Born: Sept 10, 1955 in Southport, NY | First Appearance: Page 04
Victor is Demos' uncle and legal guardian, holding the rank of Captain (or Capodecina) in the family's hierarchy. His greatest love is his Lincoln Town Car, followed by his daughter, Emily. He is known for setting buildings, vehicles, and even people ablaze when they find themselves on his bad side. Unfortunately, it is quite easy to get on his bad side.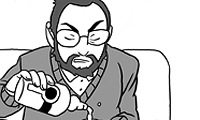 Harold Levinstein
Born: March 14, 1951 in Southport, NY | First Appearance: Page 18
Harold is Ferris' father — an accountant by day and a bookkeeper for the mob by night. He loves sweets, though his wife rarely allows him to have any. Despite being affiliated with a criminal family and spending many late nights in mysterious, unsavory places, Harold is a pretty great dad. He will always find a way to spend time with his son and finds no greater joy than watching him grow and mature.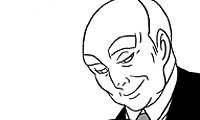 Gino Giorgetti
Born: Jan 18, 1929 in Verona, Italy | First Appearance: Page 18
Gino is the founder and backbone of the Giorgetti criminal empire in the U.S. Though his family had a long history of affiliation with organized crime, he was the first to extend their reach to America. Gino is a reasonable and generous man — traits which have earned him many powerful friends. While it was his charisma that helped bring the family to such a high place, it is his calculating ruthlessness that keeps it there. He will let nothing stand in the way of his family's prosperity — not the law, not the media, and certainly not human lives.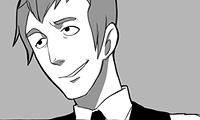 Sergio Giorgetti

Born: July 12, 1978 in Southport, NY
 | First Appearance: Page 52
In contrast to Victor, his short-tempered father, Sergio is quiet by nature. He is an honest, hard-working man, yet these traits do little to deter him from criminal activity. Sergio works as a bartender in the restaurant as well as extra muscle for the Giorgetti family and is often seen accompanying his father. When he isn't pulverising innocent people, Sergio can be genuinely kind and accommodating. No, really.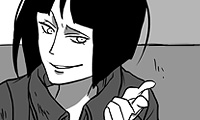 Julie Ward

Born: Nov 8, 1985 in The Bronx, NY
 | First Appearance: Page 68
Julie is the middle child of three girls, all who were raised by a single mom. Rather than following her mother's example of struggle and hard work, Julie would much rather cut class, smoke, and other shady, unproductive things. She isn't what one would call 'timid,' and is rather quick to speak her mind (however impolite her thoughts may be). Whether she is a product of her environment or simply a bad seed is yet to be seen.