Current Incentive: Mezza Morta Wallpaper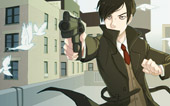 Please consider donating to our project! If you donate any amount (as low as $0.01), you will receive a special wallpaper that isn't available anywhere else. You will also gain access to all of the past donation wallpapers.
Important: When you finish your payment, you must click the above button to get sent to the download page.
If you have any questions, please contact us at contact.fishbones@gmail.com.